eBid is unusually open to suggestions for improvements in the site, providing forums for both category and site-wide improvements. In this blog post I'm going to look at category suggestions.
If you want a new selling category to be added to the site you can suggest it in the New & Ghost Category Suggestions forum. The first post in that forum explains Gazza's rules for making your suggestion, and you can't go wrong if you follow those to the letter… but a little extra explanation and some additional guidelines might help.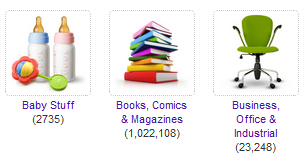 The first thing to do is make sure your suggestion is necessary. You might not spot a suitable category for your item immediately, but perhaps it's tucked away somewhere you didn't immediately think to look, or is spelt in a different manner to how you expect (British/American differences can cause some confusion here.) So, first browse the existing categories to check - this is most easily done via the front page or from the "buy" tag, rather than trying to do it from the selling form, since the layout is clearer and more easily read. Alternatively you can check my full list of categories. Though be aware, I don't claim to keep that up-to-date in real time, so it might lag a little when recent updates have occurred.
If you don't spot a suitable category by browsing, next do a search on the system for items similar to your own and see where they've been listed. If you check down the left side of any search results list you'll see the categories that are represented in the returned list.
If you've established there is definitely no specialist category, you also need to think about if one really needs to exist. How many of this gizmo do you have? How popular do you think they'll be with other sellers - will your category be quickly populated and used by buyers and sellers alike, or is it going to sit there with your one or two items in it for a few weeks then fizzle out? If so - there's almost certainly an "other" category attached to the top-level cat' you're looking at, so that's the place to put your item. If there's a gazillion things already there and you're worried your item will be swamped - make sure they are all supposed to be there, and that there isn't another set of items that do need a category of their own, even though yours doesn't. You can suggest that category instead, since it's more obviously needed. 
If you've checked and double-checked an you know the category definitely doesn't exist, and there is a positive need for it, it's time to form your request. 
First, think about what the category name is going to be, make sure you know how to spell it, and where it ought to go. 
What the name is going to be? It might be obvious, a single word such as "cats" with no room for options or dispute. Or maybe you're thinking about something with a complicated name, that covers several types of items, and where there are possibly different views on which terminology is appropriate? As it happens, if you're not sure it's not the end of the world - the suggestion forum is a discussion forum like all others, just with a special additional function. So you can always chat with your fellow eBidders about the best way to go. In fact, if you make a suggestion that others are interested in they'll jump in anyway! You might get a chorus of support, you might get some interested questions, or you might get a bunch of disagreement - but if your suggestion has merit a consensus will probably be reached which can be recommended to Gazza as "this is what we've agreed we want". A suggestion that gets clarified and/or supported in this way stand a good chance of being accepted.
When you've decided, at least in your own view, on your name and location in the hierarchy you need to word your request.
When posting to the category suggestion forum it's best to make your request clear and unequivocal. Gazza will want to know exactly what you want, and where it's supposed to go. So something like a cats section in the area for books about pets shouldn't be worded that flabbily. Or just "cat books". You need to layout each category in a way that makes it clear what the structure is. I prefer the chevron or "greater than sign", but others use commas, slashes, whatever. It's the information that matters, not the symbol. So…
Books > Pets > Cats shows how you want it to work. Please note, these aren't real suggestions and I've not checked the structure, they're made-up examples! 
If you want several categories then
Books > Pets > Cats
Books > Pets > Dogs shows what you have in mind better than
Books > Pets > Cats and Dogs which might produce a result you didn't intend. If you do want Cats and Dogs together as one category, that's fine of course.  
As well as asking for your category to be added, it's good practice to explain why you want it. "I have three thousand of these to list", for example, or "there are five hundred in the other category already that could be split out".
I'd also suggest a please and thank you in there - you'd be surprised how many are worded as demands, even if that wasn't the way the poster was thinking, they just forget how abrupt written words can look!
Once you've put your request in, be patient. Gazza processes category suggestions as and when he has the time, and there's no schedule, and no guarantee that he will feel that your suggestion has merit. The forum is called "suggestions". I tend to think of them as "requests". They are not demands, nor are any promises implicit. Ask, and you might receive. Eventually.
It's probably best not to wait for your category to appear before listing your items, you may be setting yourself up for a wait of several months, during which you can't sell if it ain't listed. Additionally, if you back up your request with "I've listed two hundred already in the other category" you've proved the validity of your request up-front and greatly improved your chances of success. 
So, that's my recipe for a successful category request. It takes much longer to explain than it takes to make one!